FOR A SMILE THAT LASTS A LIFETIME
SOUTH JERSEY'S TOP RATED LOCAL® DENTIST
Here at Ortho One, we believe that a beautiful, happy smile is only one benefit of the quality orthodontic care we provide.
Sheer White!™
Sheer White whitening films are quick and easy to apply, stay where they are placed and so comfortable to wear. Virtually invisible, you will speak normally and can even have a drink. Wear them at work or at home. Try Sheer White today and your teeth and gums will thank you.
Patient discomfort and application difficulties are the major disadvantages of most at-home tooth-whitening procedures designed to follow up on in-office whitening treatment. Different processes are at times messy, complicated, uncomfortable, and imprecise, undermining patient compliance—and thus product effectiveness and patient satisfaction.
The efficacy of tooth-whitening products depends on both the concentration and the length of time that teeth are exposed to the bleaching agent. Therefore, the patient's ability to apply the product correctly to the teeth is fundamental to whitening success. Most available methods—trays, strips, and paint-on treatments—are inconvenient, uncomfortable, and technique-sensitive. At-home tray bleaching requires the manufacturing of a fitted tray and teaching the patient to place the tray comfortably. The tray must be worn for a considerable amount of time, during which the patient is unable to eat or speak. The placement of traditional whitening strips can be ineffective because strips slide around on the teeth and leave a gooey film, making patient compliance questionable. Also, traditional strips are less effective when teeth are not well aligned. With paint-on systems, the patient must meticulously coat each tooth, and make an effort to keep the coating intact while the agent works. There can be washout or uncomfortable leakage of the whitening gels down the patient's throat.
Using CAO's innovative and proprietary thin, flexible Sheer Film™ material, Sheer White! films are easily placed on individual tooth and arch anatomy and cover from approximately first molar to first molar. The Sheer Film material molds tightly to the teeth, ensuring complete contact of the whitening gel to enamel and effectively preventing washout or leakage down the patient's throat.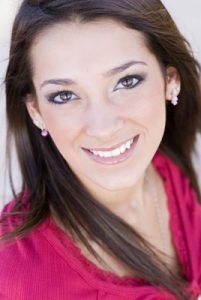 Patient-Friendly Application
The no-mess design of the strips enables truly easy and secure application. Patients simply position the film so it is centered on the arch and mold it to the teeth with their fingers. Thin, flexible films completely contour to teeth and arch, tightly adapting to each patient's individual anatomy. The whitening gel stays where it belongs, against the tooth surface, with no effort by the patient. The film should be left in place for 1 to 2 hours – or overnight to provide the fastest results. When finished, the films are readily removed by grasping a corner and loosening them away from teeth. Teeth and gums may be brushed to remove any remaining gel. Sheer White! is applied each day for 5 days or as directed by the dental professional.
Secure and Discreet
Unlike with whitening trays or old-style strips, patients are able to speak clearly – and even have a drink – while using Sheer White! Therefore, the films can be worn anytime – at work or even overnight. The thin, tight-fitting films stay where they belong, increasing the effectiveness of the whitening process. The carbamide peroxide gel remains active for as long as 6 hours for longer wear and faster whitening.
Clinician Convenience
Sheer White! is an effective alternative to traditional whitening products, such as tray delivery or strips. There is no tray to fabricate, no laboratory costs, and whitening can begin immediately with results that are comparable to tray systems.
The dental professional controls how much is dispensed for each patient. Sheer White! films are packaged in handy Patient Treatment Kits with a 1-week (5 day) supply of films, which is ideal for patients who are A2 or lighter, who want to touch up previous whitening or use after in-office whitening treatment. Patients with darker shades may want additional whitening, under the dentist's direction.
Sheer White! is a good complement to in-office whitening, when patients must finish treatment at home. It is also useful for annual touchups. The advanced delivery system of Sheer White! helps to improve patient care and increase patient satisfaction.